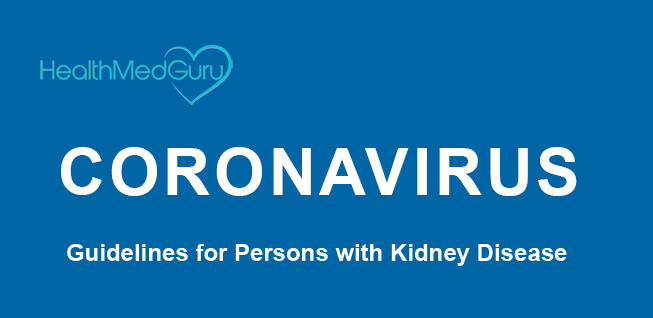 COVID-19 pandemic has taken the world in its grip. Caused by a new strain of Coronavirus called SARS-CoV-2, this pandemic is now a major medical threat in almost all countries of the world. Primarily causing acute respiratory illness with pneumonia, it can lead to organ damage and death in severe cases. People of certain categories are more at risk. These include pregnant women, the newborn, and the elderly. Patients with pre-existing problems like diabetes mellitus, hypertension, cardiovascular, chronic lung and chronic kidney disease are particularly susceptible to COVID-19 infection and are likely to have a more severe illness.
Serious cases of COVID-19 are showing adverse effects on kidneys. So, people who already have impaired kidney functions and need regular haemodialysis are particularly vulnerable. In SARS and MERS-CoV infections, acute kidney injury occurred in 5 to15 percent cases and carried a 60 to 90 percent mortality rate. Early reports of COVID-19 suggested 3 to 9 percent incidence of Acute Kidney Injury. But recent reports show a more alarming picture. A study of 59 COVID-19 patients found that about two-thirds of patients developed a massive protein leak in urine during their hospital stay.
"Unlike other at-risk individuals, these patients do not have the ability to stay at home and not interact with others. Despite being high risk since they must travel to dialysis centers 2-3 times every week. This significantly increases the risk of transmission of infection, to patients themselves, family members, medical staff and facility workers, and all others," says Prof Vivekanand Jha, Executive Director, George Institute for Global Health India and President of the International Society of Nephrology.
According to a paper entitled "The Novel Coronavirus 2019 epidemic and the Kidneys", patients dependent on dialysis, and their family members need to strictly follow the precautions to stay safe from COVID-19. For patients on dialysis suspected to have been in contact with COVID-19, treatment should be carried out according to strict protocols. All efforts need to be made to minimize risk to other patients and healthcare personnel.
The directions mentioned in the paper include strategies of managing COVID-19 in patients on dialysis, recommended facility and staff management practices, proper management strategies for such patients, and recommendations for their family members and caregivers. All these recommendations, precautions, and protocols may help in the prevention of COVID-19 in patients with kidney disease, and better management if they catch the infection.
Check out The Novel Coronavirus 2019 epidemic and the Kidneys to know the best preventive measures and management protocol for COVID-19 in people with Kidney disease.